Beets, Farro, Fig Relish and Other Unexpected Ingredients Will Make Their Way into Soups
Camden, NJ – (January, 3 2008) – In celebration of National Soup Month this January, the Swanson Broth experts in the Campbell's Kitchen have released a taste of what is to come in the world of soup in 2008. While enjoying a bowl of homemade soup is a wintertime staple, homemade soups generating renewed interest in kitchens across America, due to a general increase interest in in-home cooking, fueled by a growing desire among consumers to cook with fresh ingredients.
"The trends we are observing today in homemade soup are a microcosm of what is happening across the food industry," says Lucinda Ayers, vice president of Campbell's Kitchen. "The overall trends in flavors, ingredients and techniques play a role in soups too, and have an enormous impact on new soups that are being created both at home and in restaurant kitchens."
By keeping a close watch on recent soup trends-especially since more than 83% of homemade soups start with broth as a base-"Swanson" broth has developed a short list of "emerging" and "embraced" trends in food. The "emerging" spectrum represents what is happening with haute cuisine, for the most part at restaurants with experimental chefs; while "embraced" flavors, ingredients and techniques have permeated the home kitchens of creative cooks and more mainstream restaurants. As in the fashion industry, trends in the food industry change quickly at the top, before they make their way more slowly, and often more enduringly, to the more mainstream levels.
The following are 14 of the top "Emerging" and "Embraced" flavor trends for 2008, as identified by the Campbell's Kitchen: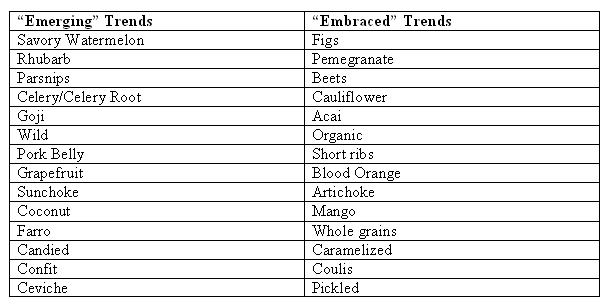 "Soup is now more than a lunchtime food and no longer relegated to appetizer status," Ayers says. "More and more people are creating a simple but so satisfying meal of a bowl of homemade soup by pairing it with a salad and a fresh loaf of bread."
Chef Todd Mitgang of Crave Ceviche Bar in New York adds, "Some days you look to find comfort in what you've known, other days you're willing to take a chance in finding your new favorite."
The following "Swanson" broth soup recipes include flavors and ingredients that will be "hot" in 2008.
Zuppa de Farro is a Northern Italian soup features farro, a historically popular grain in the Mediterranean, which is experiencing renewed appeal. A hearty, yet incredibly tasty soup with unexpected flavors, Roasted Two Potato Soup with Caramelized Shallot Fig Relish includes both an "embraced" ingredient and technique-figs and caramelizing. Creamy Beet Soup features one of the acclaimed "super foods." Beets are now appearing in everything from main dishes to salads to garnishes on sandwiches.
But even as at-home cooks are more willing than ever to experiment in the kitchen, the standard for homemade soup continues to be chicken noodle. So, while new flavors and ingredients are likely to rise and fall in popularity, Swanson's Sensational Chicken Noodle Soup remains a classic recipe for an American favorite in 2008 and beyond.
About Campbell Soup Company
Campbell Soup Company is a global manufacturer and marketer of high quality simple meals, including soup, baked snacks, vegetable-based beverages, and premium chocolate products. Founded in 1869, the company has a portfolio of market-leading brands, including "Campbell's," "Pepperidge Farm," "Arnott's," "V8," and "Godiva." For more information on the company, visit Campbell's website at www.campbellsoup.com.
CONTACTS:
John Faulkner
Campbell Soup Company
856/342-3738
[email protected]